Showmaster Pro
Show controller for complex shows and attractions
For medium to large show control applications
Supports a large number of controlled devices
Can be used as a subsystem for larger shows or attractions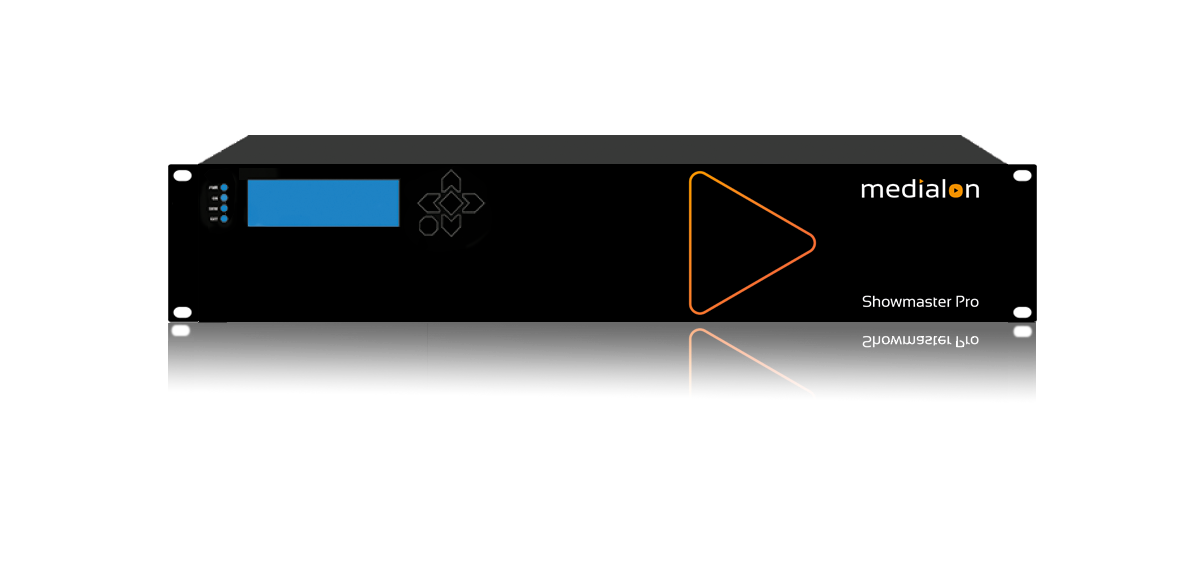 Overview
Spec

ifications

Downloads

& Support
Overview
Showmaster Pro is an all-in-one embedded show controller that offers all the show protocol interfaces you need. Control and synchronize dimmers, lighting desks, video projectors, video servers, sound processors, etc. You can also call on 16 digital inputs, 16 relay outputs, and balanced Timecode input/output with video reference.
Work with multiple timelines for synchronized show programming. An easy drag-and-drop interface lets you build up to 10 custom HTML touch screen (WebPanel) interfaces. Showmaster Pro supports third party networked Serial, I/O, Infrared, MIDI, and DMX interfaces.
OpenCapXML plugin for Unity
For interactive games or generative media applications, Unity® programmers can access Tasks and Variables in Medialon show control systems using the OpenCapXML plugin for Unity®.
This plugin makes it easy for Unity programmers to link to Medialon Manager and Showmaster projects to trigger tasks, update variable values in the Medialon project, and subscribe to variable value updates from the Medialon project.
With the OpenCapXML plugin for Unity, Medialon control systems become a bridge between the virtual (Unity®) world and the physical world where devices (such as lighting equipment, audio playback, fans, smell generators, heat lamps, water misters, vibration transducers, and video projection/displays) can all work together to tell an interactive story using a built environment, and can even be pre-programmed and debugged before sending to site by mocking it up in the virtual environment.
For more information or to request access to the OpenCapXML plugin for Unity, contact us.
* Please note that while Medialon Manager V7.1 is compatible with Showmaster Pro and Showmaster LE hardware, only more recent models have the required motherboard in them. The upgrade is a paid upgrade that requires additional hardware to be installed. Eligible Showmasters can be sent to 7thSense to be upgraded, but the upgrade is not something which can be performed by end users or systems integrators. Please contact our sales team at info@7thsense.one for more information and to enquire about compatibility of your Showmaster hardware with Medialon Manager 7.1.
Specifications
Product Specifications
Power connection

1 × 12 V DC power connector. Power adapter has IEC connection and is rated for 100-240 V AC.

Ethernet

2 × 10/100/1000 base-T

Serial ports

8 × RS-232 DB9 male serial ports

Digital input

1 × DB-37 male (digital inputs, optically-isolated and accept 3-31 V DC or AC RMS (40 Hz-10 kHz)

Digital output

1 × DB-37 female (relay outputs, SPST form C electro-mechanical normally-open relays.
Rated load: 0.5 A @ 125 V AC (62.5 VA max.) 1 A @ 24 V DC (30 W max.).
Maximum switching voltage: 125 V AC, 60 V DC / Current 1A).
When using Showmaster I/O Breakout Kit (Part #SWM_IO_KIT), the max. electrical specifications are 150 mA / 12 V DC per relay with a max of 2 A across all 16 relays.

DMX

2 × DMX input or output (5-pin female XLR) connectors; each can be configured as input or output.

Timecode inputs

1 × balanced time code input (3-pin female XLR)

Timecode output

1 × balanced time code output (3-pin male XLR)

Video sync input

1 × video sync input for timecode clock reference (BNC)

MIDI output

1 × MIDI output DIN5 female

Dimensions

2U rack 476 (W) × 89 (H) × 260 (D) mm (18.75" × 3.5" × 10.25")

Weight

10 kg (23 lbs.)
Technical specifications are subject to change without prior notice.
Downloads & Support
Drivers, Manuals & Users Guides
Medialon EULA License and Warranty
Version:
Release date:
Language:

English