MAS Pro Dante
Reliable multitrack audio server
State-of-the-art audio quality
Centralised playback and control
For live entertainment, attractions, museums and showrooms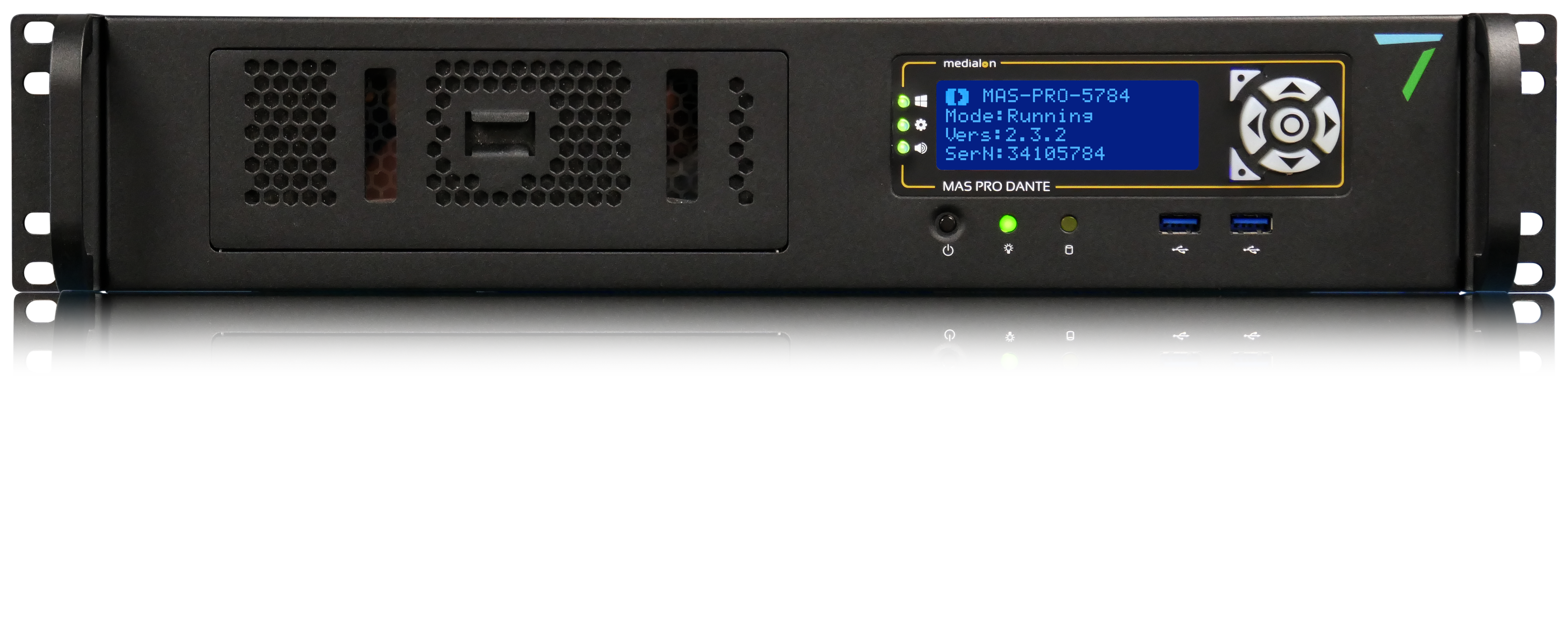 Overview
Spec

ifications

Downloads

& Support
Overview
MAS Pro Dante DH is a professional multi-channel digital audio server for both multi-track applications and independent multi-zone audio playback.
Synchronise and control audio playback on each of its output channels individually or in groups. The high quality Dante interface provides state-of-the-art high definition digital audio.
Synchronise the MAS Pro Dante DH to timecode with a Medialon show controller. MAS Pro Dante includes a remote control and configuration application to manage playback manually, but MAS Pro Dante's capabilities expand when controlled by a Medialon show controller.
Dante Configurations
The MAS PRO Dante DH is equipped with Dante hardware and is licensed for either 64 or for 128 audio output channels. This DH model also provides a master clock on the network.
A small form factor MAS PRO Dante DS model, housed in the same chassis as the Showmaster Go, uses Dante software via the on-board Gigabit NIC. The DS model is licensed for either 32 or 64 channels of digital audio. Note: no master clock is available from the DS model.
For the MAS Pro Dante DS full specification, please see the Showmaster Go data sheet.
Specifications
Product Specifications
Power connection

110 VAC-220 VAC, 1.5-0.8A (typical).

Ethernet

2 × RJ45 10/100/1000 base-T

Ports (serial/USB)

2 × USB 2.0, 4 × USB 3.0, 2 × USB 3.1

1 × RS-232 DB9 male serial port

Video Output

1 × DisplayPort™ 1.2 connector
1 × HDMI connector

Dante specs (DH model)

2 × RJ45 Dante ethernet ports.
Up to 128 channels of 44.1 – 96 kHz / 16- or 24-bit digital audio on a Gigabit ethernet network.
Maximum latency 3 ms at any sample rate.
Provides Dante sync source.

LED type (Dante card)

3 × multicolour LEDS for Dante status, sync and error

Dimensions

2U rack 483 (W) × 89 (H) × 545 (D) mm (19" × 3.5" × 21.5")

Weight (DC model)

18 kg (39½ lbs)
Technical specifications are subject to change without prior notice.
Downloads & Support
Drivers, Manuals & Users Guides
Technical Specification Sheet
Version:

C526-1

Release date:

July 5, 2019

Language:

English
Medialon Audio Client Download
Version:

2.2.0

Release date:

January 25, 2018

Language:

English
Medialon Audio Server Firmware Update Package
Version:

2.2.1

Release date:

November 15, 2018

Language:

English
MAS Pro Dante Manual
Version:

M516-2

Release date:

May 19, 2020

Language:

English
Medialon EULA and Warranty
Version:

M561-1

Release date:

May 19, 2020

Language:

English
Medialon Safety Manual
Version:

M562-1

Release date:

May 19, 2020

Language:

English