Showmaster Mini
Ruggedised Embedded Show Control
Designed for simple museum AV control applications
Controls 20 devices (expandable up to 50 devices)
Easily build AV automation, including time of day scheduling
One universe of Art-Net or sACN lighting control
Serves one WebPanel user interface to any device with a web browser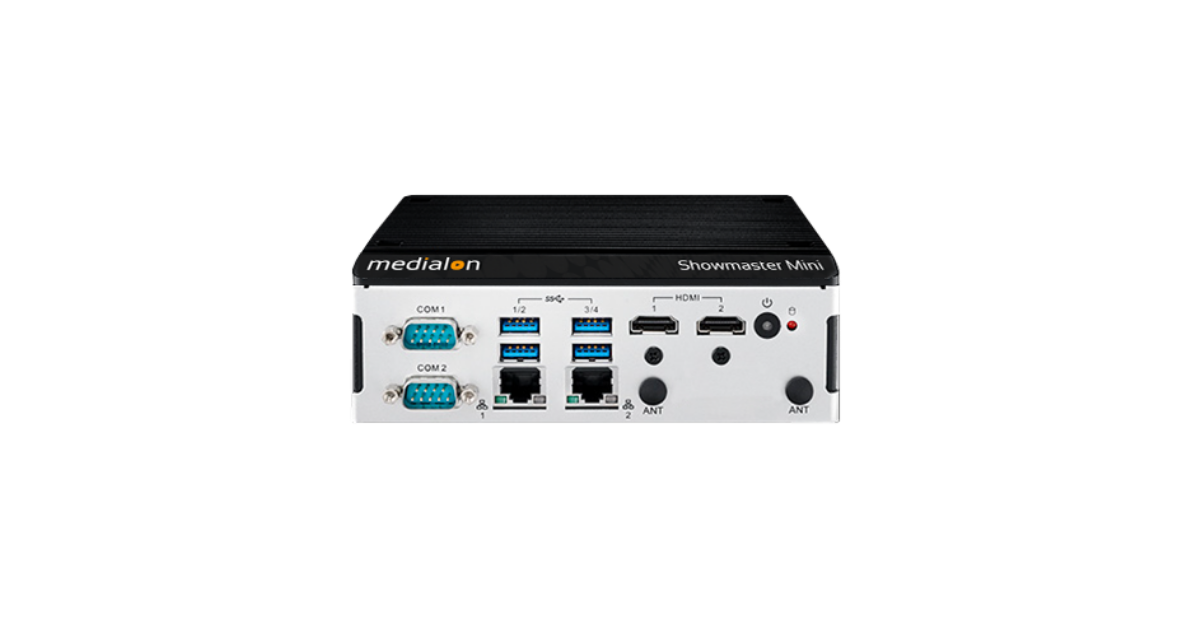 Overview
Spec

ifications

Downloads

& Support
Overview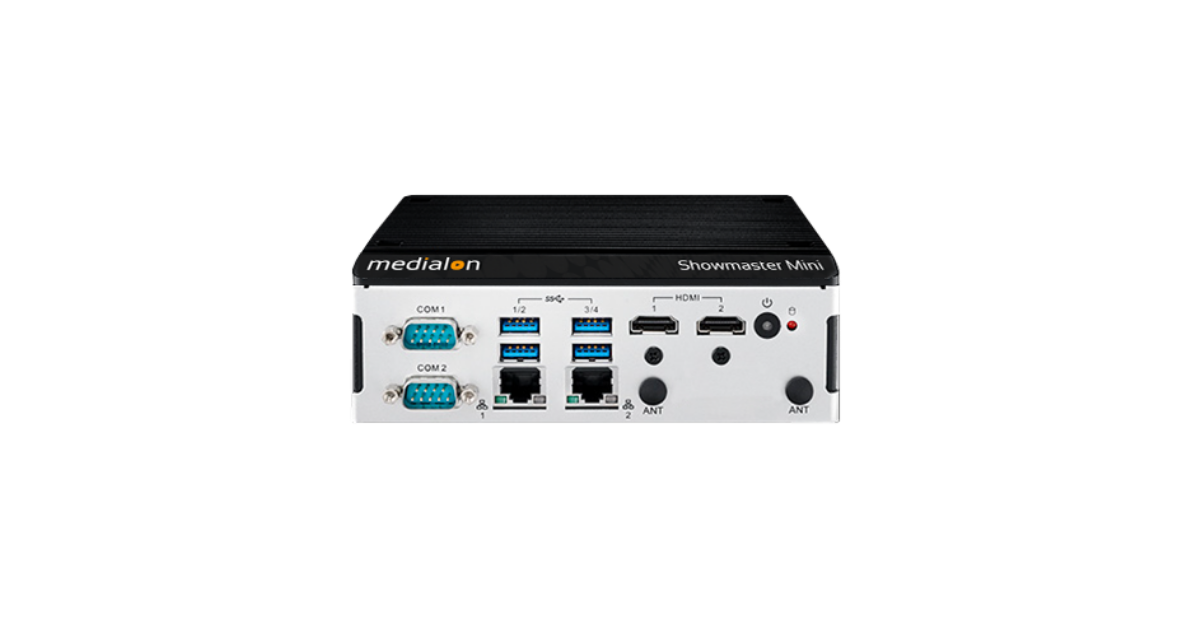 This capable and flexible device is suited to simple AV control applications and installation types. Its ruggedized, fanless, small form factor makes it easy to mount where AV racks aren't suitable. Showmaster Mini carries a reduced-feature version of Medialon Manager show control software, making it a low-cost solution that still carries the power, flexibility, and ease of use Medialon is known for.
Medialon Show Controller
Designed for less demanding applications, it starts with a 20-device limitation, expandable in 10-device batches up to a max of 50 devices. This show controller runs Medialon Manager V7 for Showmaster Mini, which in comparison means:
No Timelines, Step-based tasks only
1 × WebPanel connection (not expandable)
No Timecode or MIDI resources
1 Universe of Art-Net or sACN lighting control (in or out)
AV Control, Simplified.
Sometimes all you need to do is schedule and automate your AV system's daily power-up and shutdown sequences, or have a tablet interface for managing media on a video wall, but you don't need all the bells and whistles of a full show control solution. Showmaster Mini is ideal for these simple applications, and is compatible with other Medialon products so it can work as a sub-system controller under the scope of a larger Medialon system.
Low power, small form factor
Showmaster Mini uses Advantech industrial automation hardware, built for long-term use in demanding environments. Its fanless design means no moving parts to replace, and its tiny form factor allows you to save rack space for equipment that needs it; Showmaster Mini can be DIN rail mounted with the included mounting brackets, meaning you can put it almost anywhere.
OpenCapXML plugin for Unity
For interactive games or generative media applications, Unity® programmers can access Tasks and Variables in Medialon show control systems using the OpenCapXML plugin for Unity®.
This plugin makes it easy for Unity programmers to link to Medialon Manager and Showmaster projects to trigger tasks, update variable values in the Medialon project, and subscribe to variable value updates from the Medialon project.
With the OpenCapXML plugin for Unity, Medialon control systems become a bridge between the virtual (Unity®) world and the physical world where devices (such as lighting equipment, audio playback, fans, smell generators, heat lamps, water misters, vibration transducers, and video projection/displays) can all work together to tell an interactive story using a built environment, and can even be pre-programmed and debugged before sending to site by mocking it up in the virtual environment.
For more information or to request access to the OpenCapXML plugin for Unity, contact us.
Specifications
Product Specifications
| | |
| --- | --- |
| USB ports | 4 × USB 3.0 |
| Serial ports | 2 × RS232 |
| Video output | 2 × HDMI UHD |
| Audio | 1 × mic in, 1 × line out, 3.5 mm mini jack |
| Ethernet | 2 × 10/100/1000 base-T |
| Storage | 238 GB SSD |
| Operating environment | –30 to +70 C |
| Power connection | 12-28 VDC 60 W (3 pin Phoenix connector) |
| Power consumption | 7.6 W typical, 19 W max. |
| Mounting options | DIN-rail/Wall Mount |
| Dimensions (W × D × H) | 158 mm × 114 mm × 53.5 mm (6-1/4" × 4-1/2" × 2-1/8") |
| Weight | 1.2 kg (2.65 lbs) |
Technical specifications are subject to change without prior notice.
Downloads & Support
Drivers, Manuals & Users Guides
Technical Specification Sheet
Version:
Release date:
Language:

English
Medialon EULA and Warranty
Version:
Release date:
Language:

English
Medialon Safety Manual
Version:
Release date:
Language:

English
Medialon Showmaster Hardware Manual
Version:
Release date:
Language:

English
Medialon Control Systems Manual
Version:
Release date:
Language:

English