Medialon Manager V6 Lite
Software that turns any PC into a show controller
Remarkably easy to program
Excellent reliability
Control any audiovisual equipment using any protocol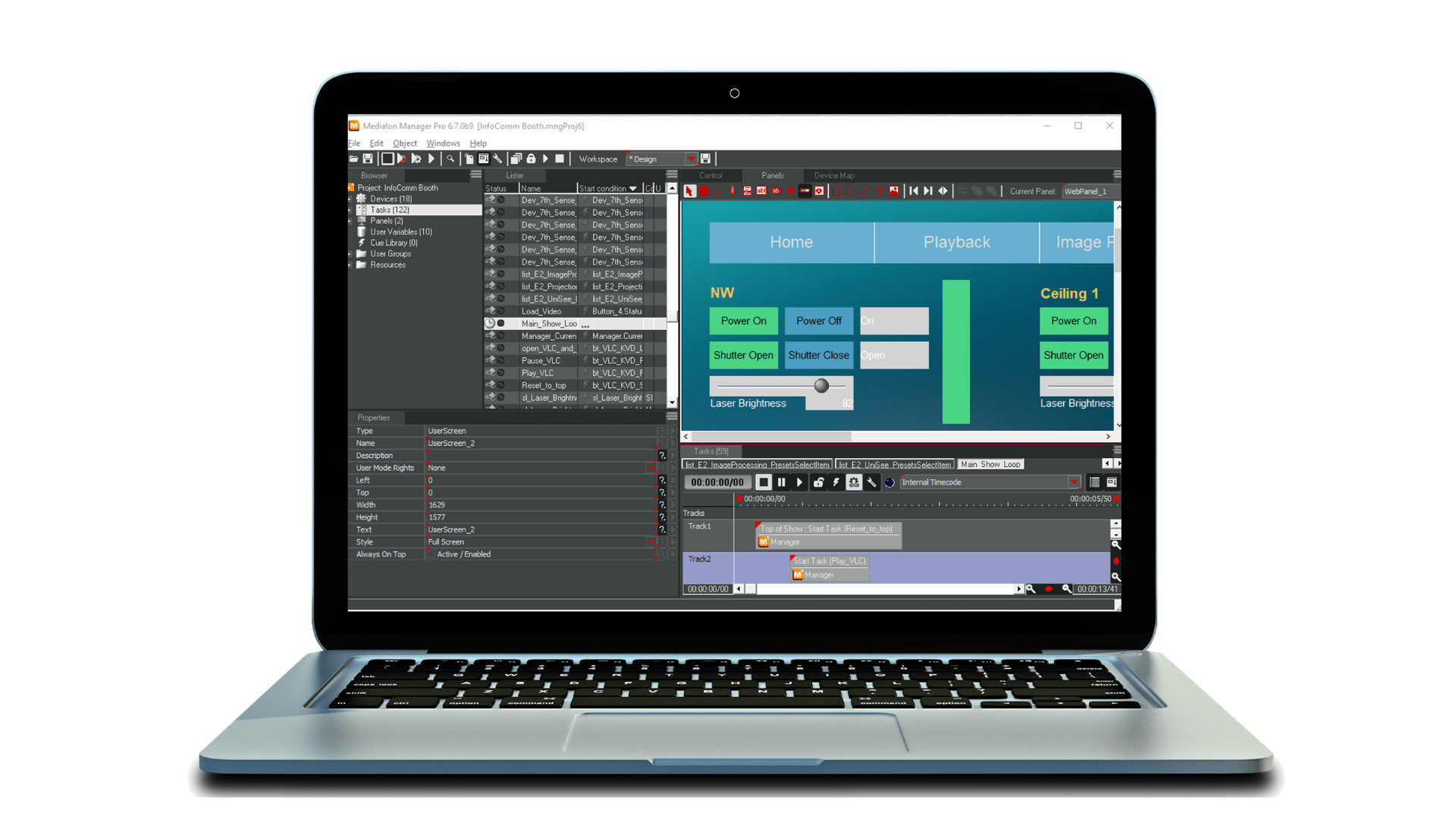 Overview
Spec

ifications

Downloads

& Support
Overview
Programming interface, GUI builder, and show execution engine – all in one piece of software!
Medialon Manager V6 Lite is a Windows®-based control software. Its ease of programming and reliability is why it is widely used in both simple and critical control applications such as: museum media control, theme parks and attractions, live show control, automated architectural video & lighting control, convention center audio & video remote control, and more.
With Medialon Manager V6 Lite you can control any audiovisual, lighting, special effect, and computer equipment using any protocol and network. Being software based, it integrates naturally with IT infrastructure such as virtualization environments, for a wide range of applications.
Faster programming
Thanks to its easy graphical programming environment, you can program applications far faster than with any other conventional control system. No need to learn how to code or compile. Its native synchronization capabilities and Timeline with drag-and drop-programming make it the ideal choice for show control applications. If you need it, complex logical task programming is also available. Medialon Manager is hardware independent and relies on standard hardware from IT or audiovisual industries to connect to devices.
Specifications
Product Specifications
| | |
| --- | --- |
| Sync | 1 Timeline Task is available for synchronized show events. Multiple shows can be programmed along the length of the timeline. |
| Accuracy | One hundredth of a second Timeline synchronization accuracy with position tracking of controlled devices |
| Timecode | The Medialon Timeline uses a native synchronization rate of 100 frames per second, but this can be changed to 24, 25, 30, or 30 (drop frame) frame rates. The Timeline can synchronize to time from any time variable in the system, including SMPTE Timecode, MIDI Timecode, time of day, or timecode returned from connected devices. |
| Cue Recording | Incoming DMX, Serial, MIDI, and network data streams can be recorded in real time and played back from the Timeline. This is particularly useful for lighting chases, animatronic figure motion profiles, or anything where the source data comes from analog devices like sliders. |
| User Interfaces | Custom user interfaces are designed in Medialon Manager and published as web pages called WebPanels, accessible from any network connected device with a web browser. WebPanel user interfaces can include buttons, sliders, text displays, LED indicators, editable text fields, gauges, pictures, and static text. Medialon Manager V6 Lite includes two simultaneous WebPanel connections standard, and can be upgraded by purchasing batches of 10 WebPanel connections. |
Technical specifications are subject to change without prior notice.
Downloads & Support
Drivers, Manuals & Users Guides
Medialon Control System Manual
Version:

M515-2

Release date:

May 19, 2020

Language:

English
Medialon EULA and Warranty
Version:

M561-1

Release date:

May 19, 2020

Language:

English