New 7thSense Medialon Calendar Allows Non-Technical Users to Schedule Daily Operation of Audio-Visual Systems
27th September 2022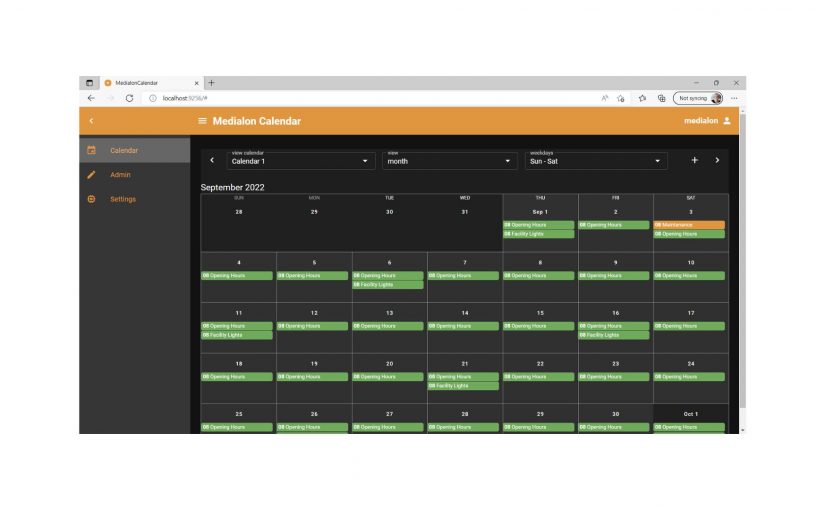 7thSense has launched a new web-based application that allows users of varying technical expertise to schedule highly technical audiovisual (AV) systems for daily operations and special events. ​
Medialon Calendar provides a familiar calendar interface that allows non-technical staff to schedule daily AV system start-up and shutdown, as well as other pre-programmed events.
Eric Cantrell, director of sales & marketing, 7thSense, explains, "AV systems in museums and visitor centres can be complex and require specialised knowledge to operate. If the facility has staff with this specialised knowledge, there are bound to be times when it is inconvenient for them to be present to set up the AV system for an after-hours event or early morning photo shoot."
"Typically, building a scheduling engine into each show control project adds programming time during installation, and these bespoke scheduling engines are often built as an 'all on/all off' daily operations scheduler to keep programming simple. But they lack flexibility for changes to daily operations or special events, and more complex changes often require external programmers – which inevitably results in more time and money. ​Medialon Calendar solves these challenges."
Medialon Calendar eliminates the time required to build bespoke scheduling engines for each project, simplifies the scheduling experience for non-technical users, and is flexible to suit a variety of scheduling needs.
Cantrell concludes, "AV specialists are no longer required to input the event details or be present for operation. The show controller executes the events from Medialon Calendar automatically, right on time – every time. As a standard offering, no additional programming needs to be added to Medialon show control projects to benefit from Medialon Calendar, keeping show control project files focused on controlling devices, not bogged down with interfaces for editing schedules." ​
Medialon Calendar is available for Medialon customers now via the latest download of Medialon Manager V7 Pro software.
For more information on Medialon Calendar, and to save time and money on show control system scheduling, click here.